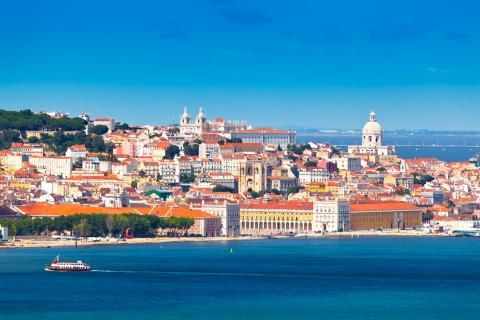 A few tips & tricks from our Portuguese colleague, Sara Coelho
The third edition of the annual Digital Infrastructures for Research (DI4R) conference is just around the corner, and will take place at the University of Lisbon campus in Lisbon, from 9-11 October.
Apart from an excellent conference venue, Portugal's capital is an elegant and vibrant city, so don't miss the opportunity to stroll its streets and discover its wonders.
Here are a few not-to-miss attractions of Lisbon:
What to see:
Lisbon is the European capital with the one of the largest networks of historical trams. A true landmark of Lisbon, the wooden tram 28 roars through Lisbon's most historic streets and passes through the popular tourist districts of Graça, Alfama, Baixa and Estrela. You can avoid the long lines and ride the tram early in the morning or late afternoon.
The ancient castle dates back to the ninth century and rules over the city, being visible from almost every street in Lisbon.
The Praça do Comércio is the largest of Lisbon's plazas, with traditional painted buildings along the sides and a statue of King José I as a centrepiece of the ensemble. This was where the old royal palace was, before being destroyed in the 1755 earthquake, Not to be missed!
A 16th-century fortified tower which serves as a symbol of maritime Lisbon. The tower is located in Belém, very close to two architectural landmarks built 500 years apart: the Mosteiro of Jerónimos and the Centro Cultural of Belém.
Where to eat:
The Mercado da Ribeira is a collection of market stalls with everything from ice cream and pastries, snacks, tapas, fancy chef food and vegetarian options.
Go to a Pastelaria for pastries and coffee. Every street has one and everyone has a local (mine is Pastelaria Vitória in Estefânia). The most famous Lisbon pastry is the pastel de nata (custard tarts) but that is just the tip of the iceberg. A few of the most traditional Pastelarias are the Versailles, the Mexicana, the Confeitaria Nacional.
Restaurants: you will have plenty of choice. Here are a few (all except one out of the touristy areas):
Galeto is a gorgeous place decorated exactly as it opened in the 1950s. They serve uncomplicated food, steak sandwiches, burgers at the counter (no tables!)
Brasserie de l'Entrecote is a fancy place to eat steak, hasn't changed since the first time I went there with my father (really not for vegetarians!)
Alfaia is a restaurant in Bairro Alto that serves traditional Portuguese food. It's in a middle of a touristy area so make a reservation.
Santa Clara dos Cogumelos, strictly for mushroom lovers, everything in the menu is cooked with them. Their crème brulee with truffles is like nothing else (make a reservation, it's always full)
Honorato is a hipster burger place, with a gin menu and all, a bit over the top, but the burgers are well worth it.
Marisqueira do Liz is a perfect place to eat seafood.
Portugália old school beerhouse, where you can have a steak, seafood and bee
PSI and Os Tibetanos are two vegetarian restaurants with lots of vegan options